♦ 29 March 2022: The MAESTRO Discoveries Workshop took place on 29th March in Brussels. This was the first opportunity for the ESRs and the project coordinator Prof Alison Walker to get together in person after two years of COVID-19 restrictions, which affected the mobility plans within the scope of the project. Despite all the difficulties arising from COVID-19, the MAESTRO ESRs accomplished their tasks successfully.
At this workshop the ESRs presented and discussed the outcome of their research conducted within the scope of MAESTRO. 
This workshop, which marked the end of the project, was also an opportunity for them to explore Brussels.
♦ 14 October 2021: Dr Luigi Angelo Castriotta is guest editing a forthcoming special issue of the journal Processes! The special issue will be entitled "State-of-the-Art of Organic Photovoltaics (DSSCs, OPVs) and Perovskite Solar Cells (PSCs)". Manuscripts are due for submission on 15/12/2021, further details can be found here.
♦ 24 September 2021: MAESTRO ESR Vivek Babu has been selected to pitch at this year's MSCA Falling Wall Lab competition on the 30th September! Vivek will be pitching during the 16.10 – 16.45 CEST/15.10 – 15.45 BST session, please do register and come along to hear all about the use of perovskites for preventing wildlife extinction.
♦ 17 August 2021: MAESTRO ESR Christina Kamaraki is a co-author on a highly anticipated new paper published by Oxford PV in Applied Physics Letters today! A press release was issued by AIP Publishing:
Link to article: Perovskite/silicon tandem photovoltaics: Technological disruption without business disruption
DOI: 10.1063/5.0054086
WASHINGTON, August 17, 2021 — Many countries around the world are committed to reducing emissions or reaching net-zero emissions to meet the United Nations' climate goals of maintaining temperature increases below 1.5 degrees Celsius by 2050. Renewable energy technologies, particularly solar energy panels, will play a significant role in achieving these goals.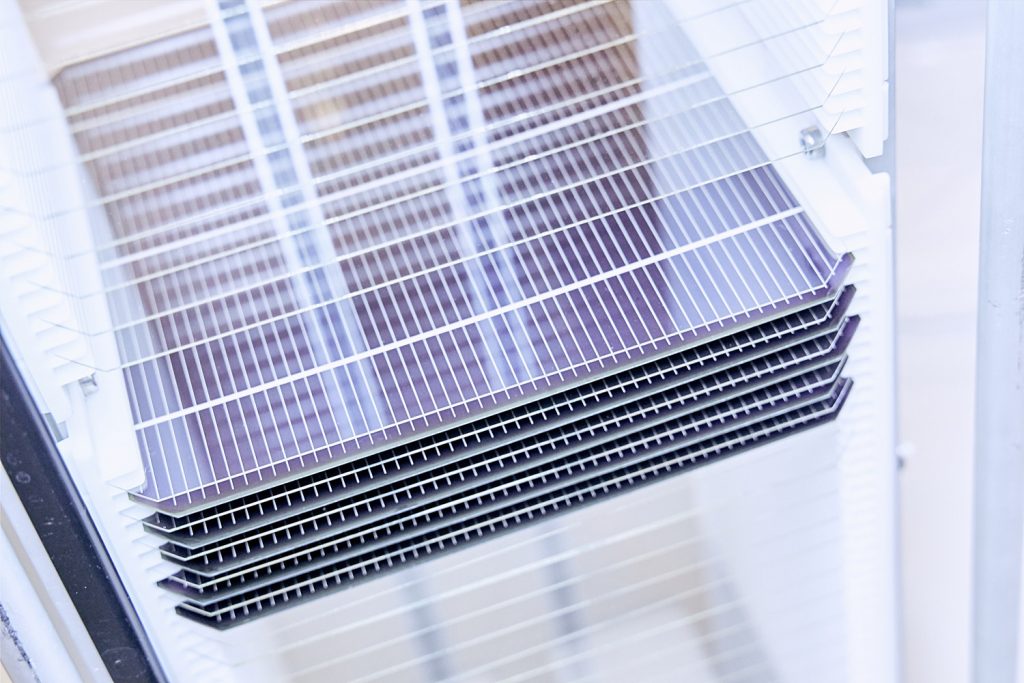 To fully harness the potential of sunlight — the world's most abundant energy resource — scientists have been trying for decades to maximize the amount of energy that can be extracted from the sun. In Applied Physics Letters, by AIP Publishing, researchers from Oxford PV describe how pairing metal halide perovskites with conventional silicon leads to a more powerful solar cell that overcomes the 26% practical efficiency limit of using silicon cells alone.
"We identified perovskites as the perfect partner for a tandem system with silicon," said author Laura Miranda Pérez.
From a materials perspective, perovskites fulfill all the optoelectronic requirements for a photovoltaic cell, and they can be manufactured using existing processes. These features make perovskite a perfect plug-and-play addition to silicon technology as it can be deposited as a layer onto a conventional silicon solar cell.
"We're proving the potential of perovskite-on-silicon tandem technology through the continuous achievement of world-record efficiencies, with our current record at 29.52%," said Miranda Pérez.
The elemental composition of the perovskite material is readily available within existing supply chains, providing a clear pathway to scale up the technology quickly to meet the ambitious solar energy targets needed to tackle climate change. Also, the higher power output of perovskite-on-silicon tandem cells could offset the carbon footprint embodied in the production of high-purity silicon required for photovoltaic cells.
Consequently, the researchers found adding perovskite onto existing silicon photovoltaics is the fastest way to improve silicon performance as it bypasses the industry disruptions associated with the introduction of a brand-new technology. The researchers focused on tandem solar cells for seven years, and the group is now very close to starting mass commercial production in its factory in Brandenburg, Germany.
"We want to help people understand the huge potential of perovskite-on-silicon tandem technology to boost the efficiency of solar installations and to help the world reach the goal of providing sustainable energy for all," said Miranda Pérez.
♦ 12 August 2021: A paper co-authored by MAESTRO ESRs is currently the most popular article in ACS Applied Energy Materials with over 150,000 views. Congratulations everyone! You can read the paper here.
♦ 29 June 2021: MAESTRO PI Professor Alison Walker will speak at the MSCA European Green Deal Cluster event on 6th July as part of the 'Clean Energy' panel! Her talk on MAESTRO will be shown on Panel 1C at 14:30 CEST/13:30 BST. The event is free but please register on the MSCA Green Deal page. Full programme details are available here.
♦ 28 June 2021: MAESTRO ESR Sijo Chacko will present his research in a poster presentation at the Advanced Materials and Technologies conference at Kaunas University of Technology in Lithuania this August! Sijo's poster presentation will be entitled: 'Enhanced Stability and Photovoltage for Multi-cation Perovskite Solar Cells via Hindering Photo-inactive Perovskite Phase Formation'. More information is available on the KTU site here.
♦ 17 June 2021: New open access paper! MAESTRO ESR Dr Luigi Angelo Castriotta's newest paper, in collaboration with Saule Tech, is available here.
♦ 13 May 2021: The full schedule for the upcoming MAESTRO workshop at the HOPV21 conference is now available! See the timetable here – we hope that you will be able to join us for what is sure to be an excellent afternoon showcasing the work of our ECRs. The workshop is free for HOPV21 delegates, please register for the conference here.
♦ 19 March 2021: Our industry partner, Saule Tech, have completed their project of creating an animal-tracking IoT (Internet of Things) device powered by perovskite solar cells. The telemetry collars are being used to track bison in the Lviv region of the Ukraine. The project was executed in collaboration with WWF (World Wide Fund for Nature) Ukraine and co-financed by the United Nations Development Programme (UNDP) and the Polish Challenge Fund. You can read about their success here and see them in action in the video below.
♦ 03 March 2021: New Paper Out! Our latest work led by Dr Luigi Angelo Castriotta shows outstanding results on Methylammonium Free perovskites processed in Air with scalable technique by using Infrared annealing and Potassium doped graphene oxide as an interlayer, achieving efficiencies of 18.3% and 16.10% on 0.1cm2 cell and on 16cm2 module respectively, with enhanced stability compares to the standard multi Cation reference. The paper can be found here: https://pubs.acs.org/doi/10.1021/acsami.0c18920

Congratulations to the extraordinary work in collaboration with leading researchers worldwide!
♦ 15 January 2021: Luigi Angelo Castriotta, our ESR from the University of Rome Tor Vergata, successfully defended his PhD thesis and has been awarded his PhD! The thesis is titled, 'Upscaling Journey of Perovskite Solar Modules: from Material to Design Optimization.'
Luigi focused his work by processing perovskite layer deposition in air environment using an up-scalable technique, such as the blade coater. Subsequently, he studied and optimized the design and laser optimization focusing on NIP, PIN structure and in other PSMs architectures using semitransparent absorbers. Module design and laser parameters have been optimized for each type of work processed, proving the importance of laser process for PSMs. Lately he analyzes PSMs stability, with a focus on Flexible PIN Modules. Stability tests are necessary to overcome barriers and enter the market. At module scale, the P2 process might create preferential paths for intrinsic perovskite degradation. Accelerated test needs to be assessed on PSMs to solve this issue. As a conclusion, Luigi build and fabricate a Perovskite Solar Panel. The choice of material and architecture is one of the most important decisions to make. Furthermore, other elements that need to be taken into consideration during the lamination phase, such as the temperature applied and the choice of the front glass, are also of extreme importance.
♦ 19 December 2020: MAESTRO ESR fellow Nadja Klipfel, of EPFL, was awarded best paper at the 2020 Conference on Advances in Catalysis for Energy and Environment Research (CACEE-2020). In recognition of her outstanding presentation, Nadja was rewarded a cash prize of 10,000 INR by the Royal Society of Chemistry, and a membership to the American Chemical Society (ACS).

During her PhD studies, Nadja has been disseminating her cutting edge research to the scientific community and beyond. In 2018 and 2019, she participated in EPFL open days, sharing her research to prospective students, parents and other interested citizens in French, English, German and Spanish. Photos can be seen below.
♦ 1 May 2020: The sixth MAESTRO training event will take place 11-14 May 2020 online
♦ 9 April 2020: Swansea University shifts from solar to sanitiser – producing 5000 litres a week for the NHS. A solar tech lab at Swansea University has temporarily switched to producing 5000 litres of hand sanitiser a week, to help the NHS fight the coronavirus outbreak.  The sanitiser, which meets the standards set by the World Health Organization, is already in use in the Welsh NHS.
♦ 4 April 2020: Saule receives a 4.35 M EUR grant to mass-produce flexible perovskite solar modules for IoT applications.
♦ 5 February 2020: MAESTRO ESRs will hold a webinar on solar energy and perovskites on March 25th at 13:30-15:00 (GMT) (POSTPONED)
♦ 17 January 2020: Oxford PV named a 2020 Global Cleantech 100 company. Our partner Oxford PV has been selected from thousands of innovators worldwide for a place on the 2020 Global Cleantech 100 list. Perovskite solar technology leader's solar cell was identified as a key innovation set to address climate change.
♦ 16 December 2019: MAESTRO publication! Our colleagues Rahul Patidar and Trystan Watson at SPECIFIC / Swansea University have contributed to an article on the progress of slot-die coating of perovskite solar cells.
♦ 23 October 2019: Oxford PV continues to prepare for volume manufacturing. Our partner Oxford PV announces second in a series of equipment orders from leading photovoltaic equipment supplier – Meyer Burger.
♦ 1 October 2019: The fifth MAESTRO training event took place 2-6 September in Tuscany, Italy, in conjunction with ISOPHOS 2019. See more photos of the event here.
♦ 8 August 2019: Oxford PV places first equipment order with Meyer Burger. Our partner announces first in a series of equipment orders from leading photovoltaic equipment supplier – Meyer Burger, as it prepares for volume manufacturing.
♦ 5 July 2019: First MAESTRO publication! Our ESR at University of Rome Tor Vergata, Luigi Angelo Castriotta, has contributed to an article titled "Fabrication and Morphological Characterization of High-Efficiency Blade-Coated Perovskite Solar Modules" in ACS Applied Materials & Interfaces.
♦ 3 July 2019: Oxford PV secures £65 million in Series D funding round. Our partner announces final close of its Series D funding round with an additional £34 million, following the £31 million first close. Oxford PV continues with plans to move its perovskite solar cell technology to volume manufacturing.
♦ 19 June 2019: The fourth MAESTRO training event took place 10-14 June in Swansea, hosted by SPECIFIC.
♦ 21 March 2019: Oxford PV to collaborate with Meyer Burger. Our partner announces plans to shorten time-to-market for its perovskite-on-silicon solar cell technology.
♦ 15 March 2019: Oxford PV raises £31m funding. The perovskite solar technology leader announces first close of Series D funding round, attracting major new investment and continued support from existing shareholders.
♦ 18 February 2019: The fifth MAESTRO training event will take place 2-6 September 2019 in Tuscany, Italy
♦ 18 February 2019: The fourth MAESTRO training event will take place 10-14 June 2019 at Swansea University/SPECIFIC
♦ 18 February 2019: The third MAESTRO training event took place 12-15 February in Athens, Greece, hosted by NCSR Demokritos
♦ 17 January 2019: New research involving University of Bath scientists, including our co-ordinator Professor Alison Walker, could lead to the design of new materials to help improve the performance of solar cells.
♦ 10 January 2019: Skanska, Saule Technologies commence revolutionary solar panels test: Saule Technologies is involved in a zero-energy buildings initiative in Warsaw by providing semi-transparent perovskite solar cells.
♦ 20 December 2018: Oxford PV has set a new certified world record for its perovskite based solar cell – 1 cm2 perovskite-silicon tandem solar cell has achieved a 28% conversion efficiency, certified by the National Renewable Energy Laboratory.
♦ 20 December 2018: We are happy to announce that two MAESTRO partners, Oxford PV and EPFL, are featured in the latest NREL Best Research-Cell Efficiencies chart! Oxford PV are leading in their category of Perovskite/Si tandem (monolithic) in the Emerging PV sector.
♦ 7 December 2018: Philippe Holzhey, MAESTRO PhD student at the University of Oxford, has contributed to an article published in Materials Today titled "A chain is as strong as its weakest link – Stability study of MAPbI3 under light and temperature"
♦ 19 November 2018: The second MAESTRO training event took place 12-16 November in Castellón, Spain, hosted by UJI
♦ 8 November 2018: The third MAESTRO training event will take place 11-15 February 2019 at NCSR Demokritos in Athens, Greece
♦ 3 October 2018: The first MAESTRO training event took place 25-28 September in Sion, Switzerland, hosted by EPFL
♦ 26 September 2018: Oxford PV and the University of Oxford awarded UK Government funding to develop an all-perovskite solar cell
♦ 26 September 2018: Second training network event will take place in November at UJI in Castellón, Spain
♦ 23 August 2018: Oxford PV leads consortium to prepare perovskite solar cells for high volume manufacturing
♦ 24 May 2018: First training network event will take place in September at EPFL, Sion campus, in Switzerland
♦ 8 March 2018: The first ESR has been recruited by EPFL
♦ 7 November 2017: MAESTRO kick-off meeting took place in Bath